Details

Written by Stefan Häuser
Many collectors of military-historical equipment from the Second World War know them:
The Tramp Travel Coffee grinder.
It was made of bakelite, was small, simple, extremely handy and could quickly produce the necessary amount of coffee powder for a large cup of coffee.
Because of this properties many collectors think that these grinders were issued to the Wehrmacht. These informations even go so far that this coffee grinder should have been part of the standard equipment from every Wehrmacht soldier.
Let me tell you this before we'll go on: No, these coffee grinders were certainly not part of the standard equipment from german soldiers! They were also not ordered or issued by the Wehrmacht! There is no evidence and there are even no contemporary photographs of tramp-travel coffee grinders in use!
But where does this information come from?
In 2008 the book "German Soldiers: Uniforms, Equipment and Personal Effects of the German Soldier 1939- 45" by Augustin Saiz appeared.
In Germany, the book appeared a little bit later in a slightly different form under the title "Der Infanterist des deutschen Heeres".
Among other things, the Tramp travel coffee grinder was shown in both books. ("Der Infanterist des deutschen Heeres", 2nd edition 2014, on page 275)
From this moment, a real "hype" began around the Tramp coffee grinder and it didn't take long till the first offers in online auctions described them as a coffee grinders of the Wehrmacht.
However, in specialist circles the resistance to this declaration came up very quickly. It was also criticized that some post-war and even fantasy products were depicted in this books.
Unfortunately, this criticism is a bit appropriate, because (only a few) post-war and fantasy products are shown in this books, that (however) are largely mentioned from the second edition.
Nevertheless, the book is an excellent illustrated reference book with mostly very beautiful, detailed pictures and descriptions! The book can be recommended!
Authors of new militariabased literature have a hard work today. Believe me: It's not easy in these days, as the militaria market is regularly flooded with post-war and fanasy products. A distinction between original and counterfeiting can therefore often only take place through much experience and knowledge in this area. Errors therefore occur simply and should not be reproached for the authors.

But let's get back to the topic:
In expert groups the tramp-coffee grinders get often marked as post-war products. Others declare them as contemporary and some still claim that this coffee grinders were part of the Wehrmacht standard equipment.
The Tramp travel coffee grinder completely disassembled
 

Where the Tramp travel coffee grinders only produced after 1945?
On every Tramp travel coffee grinder, there is a stamp with "B.O. Garantie" coined on it. "B.O." Stands for the company name "Brothers Ouhrabka".
The company Ouhrabka was founded in 1923 by Vincens and Josef Ouhrabka in Lomnice (today's Czech Republic) and was specialized in the production of coffee and spice grinders.
"B.O. Garantie" was the brand name. The company existed from 1923 to 1950. It had to be abandoned in 1950 due to the Soviet dictated nationalization and then was part of the company "Orlické Strojírny".
The company existed until 1950 and the brand "B.O. Garantie" was only used till 1950. So it could be that the tramp-coffee ginder is a post-war product.
How should we go on in our research?

It is necessary to check if coffee grinders from "B.O." were generally available in Germany until 1945.
As we already know, the company was located in Lomnice. Lomnice belonged to the northern part of Czechoslovakia at that time. It was located within the so called "Sudetenland" and was integrated into the German Reich 1938 since the Munich Agreement (also known as the Munich Dictate). So this are the historical facts about the "Brothers Ouhrabka"-company.
Fact: Coffee grinders of the brand "B.O." were already known and used in Germany before 1938! The evidence for that are advertisements in various magazines of that time.
So it is fact that soldiers of the Wehrmacht were able to acquire such coffee grinders privately if these coffee grinders existed.
Were there the Tramp-Kaffeemühlen already produced before 1945 or not?
The website of the company gives us a first clue: Today it is led by the great-grandons of the founders under the company-name "Lodos" (Lomnické Domácí Strojky, founded in 1991) in Lomnice.
On the information page about the company history, it is clearly described that the tramp-coffee grinders were already produced before 1945.
Another document is a catalog, which was released by "B.O." in the early 1940s. You can see here the Tramp-Kaffeemühle in different colors.
So they existed already before and during the second world war! The company Lodos has confirmed this again for me!

The claim that every soldier got such a travel coffee grinder was clearly repelled by Lodos. To the equipment of the soldiers, everything belonged to the equipment for eating and drinking:
Kochgeschirr 31
Essbesteck and Goeffel
Feldflasche 31 (Canteen)

But nothing more! The soldiers themselves had to procure everything else they wanted.
The board was completely organised by specialised food companies. Each soldier received 8 grams of bean coffee or 10 grams of coffee substitute per day. At the front the coffee was usually delivered (already grounded) directly by the food companies.
Anyone who has already talked to german veterans knows that coffee was extremely rare in the last years of the war. A real rarity!
It is also interesting that the last resort boxes contained 20 grams of coffee (finished ground and packaged). (See also Fu 53 Eis. Portion (Eiserne Portion)) The coffee always came completely grounded to the soldiers on the frontlines.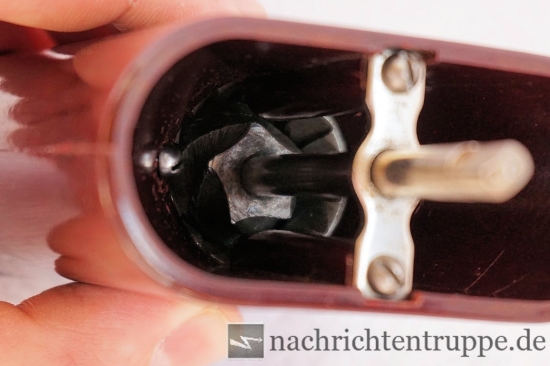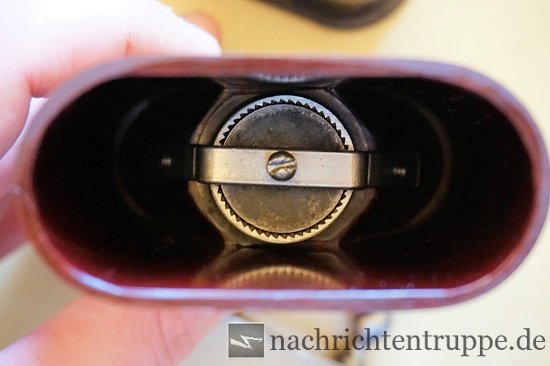 However, this does not mean that a soldier could not have owned and used this coffee grinder! What the soldiers brought to self-catering was left free to each soldier in the war years.
Soldiers were allowed to supply themselves! At that time the Tramp coffee grinder was a beautiful, handy and robust coffee grinder and fitted perfectly e.g. in the bread bag (Brotbeutel 31).
So: Why not?!
On contemporary photographs you often find all sorts of civilian crockery. Also the abundance of sale articles for soldiers was immense.
The grounded coffee trickled into the jar mill, which was then removed
Conclusion
At this point all collectors can be reassured: A tramp-travel-coffee-grinder could have been used by the german soldiers of world war 2!
They still existed before 1945 and they were also available in Germany. As a piece of equipment they were certainly not issued as a standard equipment of the Wehrmacht!
One thing everyone has to keep in mind: The german soldiers used everything that was available to them and with which they could make the difficult life on the frontlines easier!
For this, it does not need a detachment stamp and it does not have to be a military equipment!
Sources
Der Reibert - Dienstunterricht im Heere (Unterschiedliche Ausgaben)
H.Dv 86/1 - Vorschrift für die Verpflegung der Wehrmacht bei besonderem Einsatz